When it comes to puppies, all trainers will tell you that socialization is key to not having your dog be scared of the world. My puppy, Clover and I just finished puppy kindergarten at Manners 'n More in Bellefonte.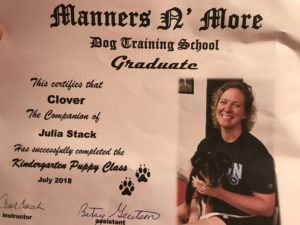 It's not my first time taking the class, but it was Clover's. The socialization, sights and sounds of puppy classes are a great start to teaching your dog independence and to be brave. There's homework in the class. A socialization sheet of about 50 different things they ask your puppy to experience. Things like meeting a horse, meeting someone in a wide brimmed hat, walking your puppy near a bus, and getting treats on a grooming table.
Puppies do not come with the knowledge about how to get groomed. It's something that has to be taught and like getting your kids to eat broccoli, it has to be repeated over and over again until they realize the grooming experience, or broccoli in the case of my kids, isn't going to kill them. I recommend starting puppies out at 12 weeks of age, like my newest friend Milo, a 12 week old Havanese, did today.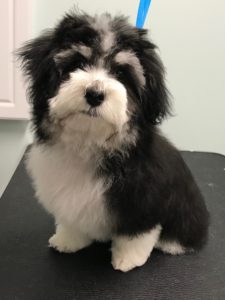 By then they've started with their vaccines and since they don't have adult hair, and are likely not tangled, their first experience on a grooming table can be quick and easy. Milo had what I recommend for all puppies - Bath & Brush. He had his nails trimmed, ears plucked and cleaned, bath, blow dry, brush and I trimmed his privates footpads, feet and face. That's enough for a first grooming. Like learning to eat broccoli, I recommend repeating the grooming, maybe adding a little more of a trim each time, every 4-6 weeks. That interval is perfect to keep on top of mats and remind your puppy that grooming can be enjoyable and fun!